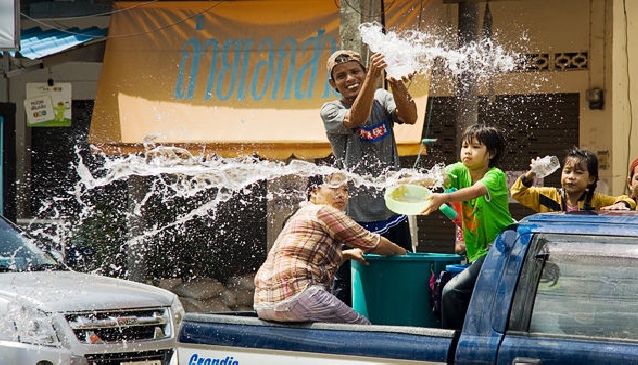 Songkran Festival Koh Samui
Arts & Culture
Sanuk comes in the form of large volumes of water being thrown in the general direction of anyone...
The Thais are a nation of people that like to enjoy life, no matter what the occasion or circumstance, be it work, social or family gatherings, anything they do should have some form of Sanuk (fun) involved.
So when it comes to calendar events in Koh Samui, and Thailand in general, they are celebrated in a big way, and there is no bigger event than the Songkran festival, the ancient traditional New Year's Day celebration. Once based on the lunar calendar, it is now fixed on the 13th of April every year.
Traditionally for Thais, Songkran means it's time to clean everything, the house, the soul, Buddha amulets, cleansed and ready to start the year afresh. This includes sprinkling water on Buddha images at home and at temples, younger people on older people as a sign of respect and request for blessings. Well, that is the tradition and I'm sure in many rural areas of Thailand and smaller villages in Samui, traditions will be observed and continued, but in the tourist hubs of Samui it's a little different.
When you step out of your house, villa, bungalow or hotel room and enter a public domain on the 13th through to the 15th of April, you'd be best advised to leave your phone and favourite outfit behind. Unless you have a waterproof cover for your camera put it in a sealed bag. Perhaps a plastic sealable bag for your wallet too. Why, because you are going to enter the streets of Samui in full Songkran party mode. It'sSanuk time and it comes in the form of large volumes of water being thrown in the general direction of anyone passing byusing buckets, water pistols, hoses and even garbage bins. People set up water stations along streets and pick-up trucks are purpose fitted out to drive round the island with revellers showering pedestrians.
This might sound a bit off-putting to some, but it really is a whole lot of fun. Locals, expat and tourist alike are free to participate the drenching of others, anywhere, anytime. Typically, most hotels and resorts on the island are at capacity, which should tell you it is a great time to be here and celebrate this unique cultural event. The bars are full, music is blasting from every corner, people are celebrating in full force with the biggest water fight you'll ever witness.
If you'd like to experience the true sense of Sanuk in Thai culture, then book yourself a trip to Samui for the Songkran Festival.