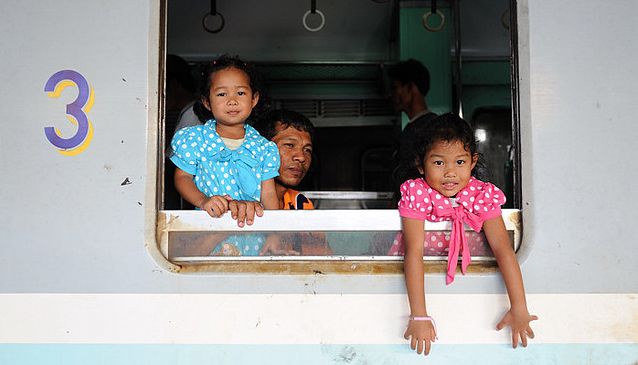 Thai Train Travel
Inspiration
one of the easiest, most relaxed and enjoyable journeys we have ever had whilst travelling
We recently decided to take a trip to Bangkok. Normally we'd take a flight direct from Koh Samui airport . Instead, we decided to try a first hand experience of what it's like to travel by train.
We have to say it was one of the easiest, most relaxed and enjoyable journeys we have had whilst travelling.
Thailand has a fantastic rail system and it is great way of getting around the country, arriving at destinations that you would otherwise not be able to reach by air.
Anyway, back to the story at hand. We booked our tickets through a local travel agent in Nathon - Asia Travel. We highly recommend these guys as we had no hiccups or issues with the service. If you are booking coming from Bangkok, most travel agents can sort out train tickets for you, or to be totally sure you are getting what you paid for, go to central station and book the tickets yourself. Don't leave it too late to book, the sleeper carriages can sell out quick, this is an overnight journey and you really want to get a sleeper carriage, seating only is really not a comfortable option.
There is no actual train service on Samui, you depart/arrive from Surat Thani on the mainland. The actual journey involves: a bus from the island on to a ferry to the mainland, this takes about 1.5 hours. Then you board the same bus and travel for another 1.5 hours to the train station. This is all organised by the travel agent, 3 tickets, for each mode of transport and they all interlink. Just make it to the bus on time and everything else will fall into place.
The night train leaves around 6.30 pm. When booking your ticket, make sure you book yourself a 2nd class sleeper carriage, either air-conditioned or fan. You don't need to get a 1st class cabin to yourself as it is double the price and not really necessary. The main issue is whether to take an air-con or fan carriage. The air-conditioning can get pretty chilly and if you are sleeping on a top bunk (as pictured), it can get cold. You are only given one blanket, so maybe double up on t-shirts if sleeping on the top bunk. It's not an issue for the lower level.
Once you board the train you find your seats, it's best to bring along your own snacks, food and drinks before departing if you are travelling on a budget. The food on the train is a bit over-priced, but it is on a train and being served to you. Additionally, if you do buy food and drink the staff receive a percentage of sales, so a beer or soft drink purchase is a good dead for the tireless staff, who go back and forth with each journey, 7 days a week to support their families.
The staff usually start laying the beds out around 8.30 pm or earlier if you prefer. We'd advice bedding down when it's offered and get comfy in your bunk. You have full privacy with a curtain that shields your bunk from head to toe, end to end. A good book, or podcast to doze off too and next thing you know you are in Surat Thani/or Bangkok feeling fresh enough compared to other long-haul journeys.
A final note, when coming from Bangkok, if you have only booked your train ticket it is not an issue. On arrival in Surat Thani there are 2 or 3 buses waiting for passengers to take to the ferry and then onwards to Nathon Town centre on Samui. Just don't wait around getting off the train, head straight out towards the buses as they leave quickly to make the ferry on time.