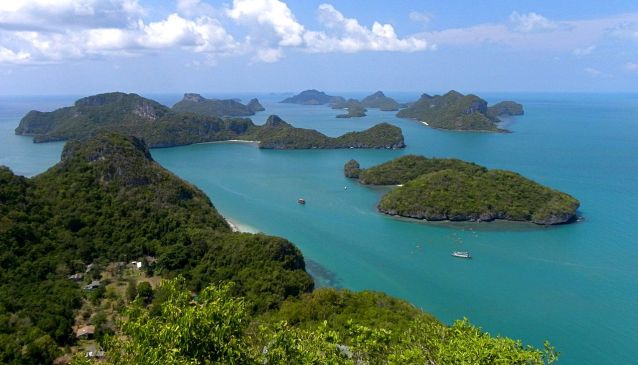 Angthong National Marine Park
Adventure
Angthong Marine Park is a collection of 40 plus, stunningly beautiful un-inhabitant islands
So many tourists come to Koh Samui without ever really leaving their resort. If there is one thing worth leaving your resort for it is definitely a trip to the Angthong Marine Park and you can do it all in 1 day!
Angthong Marine Park is a collection of 40 plus, stunningly beautiful un-inhabitant islands. The limestone rock islands rise majestically from the sea in unique formations, covered in tropical jungle, lined with deserted golden sand beaches and is home to many species of exotic wildlife such as monkeys, sea-eagles, otters, lizards and sea turtles.
The hundred square kilometres of islands and sea gained its national park status in the 1980's. The only development here is on Koh Wua Talab where you'll find a few basic bungalows and camping accommodation for those who would like an overnight stay. Only
licensed tour operators
can enter the park. The only inhabited island is Koh Paluay, home to a small group of sea-gypsies who settled here hundreds of years ago and still maintain a traditional fisherman's lifestyle.
The most famous island is Koh Mae, home of the Emerald Green Lake (Thale Nai). The inland lake is a beautiful green colour, protected by sheer limestone walls. It is a seawater lake connected to the outside waters via a series cave systems. To view the lake there is a decent climb up a man-made pathway to the top of the island. Wear decent footwear if you are going climb the mountain and be prepared to break a sweat, it is not easy. Aside the lake the view across the other islands is one of the most beautiful you will ever witness. This is definitely a highlight of a trip to Angthong, and if you are up to the climb we would encourage you to go for it!
Another enjoyable experience is kayaking around the islands;
most tours
do have a kayaking session as part of their tour. This is a great way to discover caves and get up close to the limestone formations from the sea while taking in the sound of nature.
Other activities usually include swimming and snorkelling. The snorkelling is a little bit hit and miss so don't get too excited about finding tropical reefs teeming with sea life, that's another trip to other islands.
There are many tour operators on Samui, Phangan and Tao that run daily tours to Angthong. Itineraries usually include stopping off at various locations for hiking, sightseeing, kayaking, swimming and some chill out time on a beach.
An important thing to consider before you book is how you want to travel and with how many people. Some boats take up to 2 hours to get there and 2 hours back with a full boat of people onboard. To really enjoy the experience it's best to find an operator that limits passenger numbers between 12 and 25. We would personally recommend using a speedboat tour company, less travel time and maximum marine park time.
So when you holiday on Samui remember to book yourself a tour of the Angthong National Marine Park and see what inspired a hit novel and take home some memories of the wonders of nature.