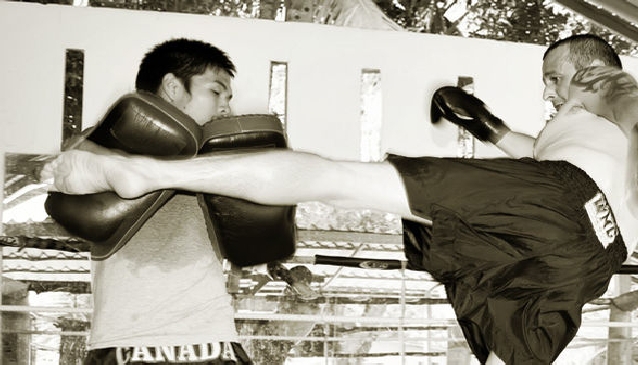 Muay Thai Training on Koh Samui
Sports
3 months down, I've lost 5 kilos; my fitness is good. I can't wait for every new training sessio
Being 39 and a little over weight I decided I wanted and needed to get back in to some fitness training. The realisation now is all too clear, at my age the belly grows without too much notice, takes even longer to retreat and it's too much like hard work to get rid of it. But being fortunate enough to live on Koh Samui, which has more than its fair share of paradise beaches, expanding waistlines are hard to ignore.
I thought about the gym, something I have done in the past and from memory, frankly it was quite boring for me. I used to play football too, but it is a bit hot for that in Thailand and I doubt I could keep up with the younger lads.
I wanted to try something different, a new skill that would be fun, keep me interested and at the same time improve my fitness while dropping a few kilograms. When you think about the combination of all these characteristics, you'd have to say that is what we all would love from physical fitness but in reality it's not really achievable… or is it?
After discovering Thai Boxing (Muay Thai) I think it is. It has combined my physical fitness needs, turned them into wants and given me so much more, while enjoying myself.
Muay Thai has long been the most popular sport in Thailand, known as 'the sport of kings', with tradition steeped in Thai culture from its very beginnings. Today many people come from all over the globe to train, and fight here, Thailand being the true test of one's ability.
Considering such traditions and being a complete novice I was a little hesitant in approaching a gym full of pumped up fighters, throwing crazy kicks, elbows and fists on bags and pads not to mention each other! I spoke to a friend of mine about this and he let me know about a little training camp in Mae Nam that might suit me, called Wittaya Muay Thai.
Convinced, I dropped by to see the head trainer Khun Wit, a friendly approachable guy, and in true Thai style made feel welcome and at ease from the moment we met.
The next day I took my first lesson with trainer Jack. When I arrived, there was a young Aussie girl having her first lesson, a French fellow training for an up and coming fight and a few Thai kids getting in to some fun training with their teachers. The atmosphere was relaxed and everyone was having fun. Bear in mind, the gym is no big flash Fitness First, it's a bare bones training facility.
During my first lesson, there were no boring, "you have to learn this before that", "go run up that hill", "and give me 50 push-ups". After a short warm up of the muscles and limbs, I started throwing punches and kicks straight away, really enjoying myself. My heart was pumping like never before but I had a smile on my face. You are not just throwing punches and kicking aimlessly, the trainer shows and explains techniques and your aim is to replicate.
3 months down the track, I've lost 5 kilos; my fitness is as good as it has been in years. I can't wait for every new training session, and I'm learning a self-defence skill from professional Muay Thai fighters. My energy levels have increased, as has my appetite, but for healthy food. It's like the body is telling your brain what you need to fuel this high-energy fun fitness work out. The truth be told I can still enjoy the odd burger and fries once a week and a few beers on the weekend without the worry it will put more weight on, a definite added bonus.
Why not give Muay Thai a try while here on holiday? Wittaya Muay Thai is the perfect place to give it a go. Who knows you might end up loving it and can continue your new found way to keep fit, trim and healthy when you head back home…