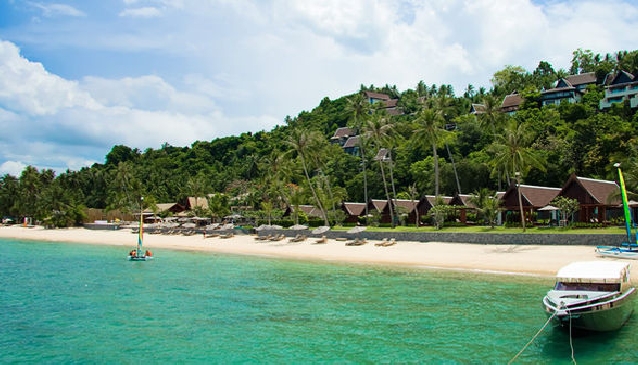 Luxury Accommodation on Koh Samui
Mini Break
Each resort takes advantage of the natural hillside jungle surrounds that cascade down...
Accommodation on Koh Samui, Thailand, has come a long way since the first pioneering backpackers arrived on long-tail boats from the mainland in the 1970's.
Still, accommodation grew slowly and steadily from basic beach huts, to beach bungalows and later, resorts.
Towards the end of the 80's, Koh Samui opened its International Airport, which in turn put Koh Samui on the International traveler map and resorts soon started popping up all over the main tourist areas of Chaweng and Lamai, luxury resorts included.
It wasn't until more recently that we've really seen the true qualities of Koh Samui being maximized by some of the bigger luxury hotel management companies. Nowadays they really make the most of the surrounds, developing ultra-modern resorts in beautiful locations, with everything one could want; basically there is no need to leave the resort.
Various secluded hillside locations around the island, offering breathtaking views over the Gulf of Siam, are now home to some of the best hotels in Koh Samui. Brands such as Four Seasons, Banyan Tree, Six Senses, Conrad , W Hotels and the Intercontinental.
From the moment you arrive at the entrance lobby you are literally swept away into another world. Each of the 5 star luxury hotels mentioned above has brought their own international standard, theme and service, combined its name with 'Thai' influence and complimented the surrounds and location to perfection.
As you'd expect, the service is exemplary, staff are experienced, highly trained, and understand what is expected from their guests; going the extra mile is part of the daily routine. The exceptional service is amplified by Thai culture; Thai people are very hospitable; it comes naturally to them. There is an intangible feeling that one gets which cannot be put into words, a service experience unique to these hotels on Koh Samui.
Each resort is designed with its own brand, fused with Thai style, and takes advantage of the natural hillside jungle surrounds that cascade down to white sand beaches.
These resorts tend to have private villas or private suites, most with their own private pool and Siam Sea views. All come with state-of-the-art equipment, luxurious furnishings and wet facilities.
Each hotel has famed award-winning restaurants and bars, with stunning architecture and locations to compliment the excellent and varied cuisine on offer. Some resorts offer dedicated staff and butler service.
The W Retreat has become a well-known location for International DJ and fashion events; it has a variety of locations and themes for dining or socialising to suit the mood of most guests. The other hotels are more low-key and geared towards their on-site customers.
As you'd expect, the spa and wellness facilities are again of the highest order. Each has there own signature spa facility, with a wide variety of pampering treatments and grooming services. Most have ultra modern gyms for those that like to keep fit while holidaying.
If you do wish to venture out of the resort to see the island and its nightlife, or to take a tour of the surrounding islands - including the marine park - the resorts have their own shuttle services, programmed tours and private boats to fulfil your needs.
On-site you'll find plenty to occupy guests, with beachfront water sports, multiple pools and activities. This includes those that would prefer a good book from the library, and for those that just can't leave work behind, business centres are available. Most have dedicated facilities and staff to help keep the kids occupied while giving parents time out on their holiday.
We could go on with the finer details, of which there are plenty, but you get the idea. Koh Samui hotels now offer some of the finest examples of 5 star resorts you'll find anywhere in the world, but with that special touch you can only find here on our boutique island, Samui.
For the well-heeled and more discerning traveler, satisfaction can now be found in a variety of brands and locations. In our opinion this is just the start for this beautiful island; more of the big names will come, and there will be no shortage of luxurious places to stay in Koh Samui We look forward to seeing who is next.